Dog Food: Acana
Price: From R1419 – 17kg bag (R83.47/kg)
Cheapest Place to Buy: PetHeaven.co.za
Bag Sizes: 340gr, 2kg, 6kg, 11.4kg, 17kg
Dog Size: Puppy, Adult, Senior
---
Acana hails from the North American country of Canada. They have a unique outlook on what should be in dog food – a term they call 'Biologically Appropriate' dog food. 
What is Biologically Appropriate? 
Our beloved pet dogs originate from the wild. Yes, most breeds of dogs have been bred in captivity. But their 'ancestors' were first found in the wild. It is believed that all dogs come from the Grey Wolf. Acana's Biologically Appropriate diet is designed to best match the type of food that mirrors the diet found in the wild – Meat and Protein. 
Acana Follows Natures 5 Food Rules:
High in meat and protein
High fresh meat content
A mix of fresh meats
Wholeprey nutrient ratio – meat, organs and cartilage
Carbs
Acana Classics Range
Flavours – Prairie Poulty, Wild Coast
50% meat – all meat and eggs are FREE RANGE or wild caught(fish)
All ingredients come from approved and trusted supliers
Ingredients:
Meat(chicken/herring) meal (25%), steel-cut oats (23%), fresh meat (10%), whole red lentils, whole green peas, whole green lentils, fresh turkey meat (4%), cage-free eggs (4%), chicken fat (4%), whole garbanzo beans, whole yellow peas, whole oats, herring oil (3%), sun-cured alfalfa, lentil fibre, dried brown kelp, fresh pumpkin, fresh butternut squash, fresh parsnips, fresh green kale, fresh spinach, fresh carrots, fresh Red Delicious apples, fresh Bartlett pears, freeze-dried chicken liver (0.1%), salt, fresh cranberries, fresh blueberries, chicory root, turmeric root, milk thistle, burdock root, lavender, marshmallow root, rosehips.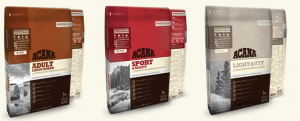 Acana Heritage Range
Range – Small breed, Large breed, Sport & Agility, Light & Fit 
Age – puppy, adult, senior
60-75% meat
1/3 fresh meat
Grain and gluten free
Acana Regionals Range
Flavours – Wild Prairie, Pacifica
70% meat – 1/2 fresh meat
30% fruit and veg
low in carbohydrates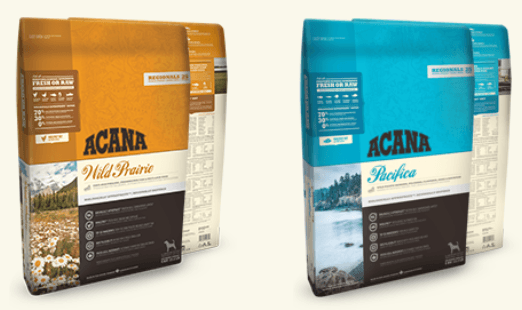 Acana Singles Range
Designed specifically for dogs with food sensitivities, to promote their health and keep them in peak condition.
Flavours – Duck, Yorkshire Pork, Grass-Fed Lamb, Pacific Pilchard
50% meat – single source – 1/2 fresh meat
For all breeds and life stages
Quality ingredients ensure minimal supplements are added
Conclusion
This is one of the closest diets on the market to that your dogwould eat in the wild. In otherwords, feeding your dog Acana is as close to what your dog was born to eat.
*if you have any questions or experience with Acana you would like to share, please leave them below 🙂